by: Dawn P Richards, Christine Thomas, and Gillian Newman
In May 2020, IMHA convened its Patient Engagement Research Ambassadors (PERA) with a mandate to: inform IMHA and CIHR of patient priorities in research; inform their own communities about IMHA, CIHR and work with PERA; advocate to benchmark best practice in patient-oriented research (POR) across IMHA's activities; curate quality POR assets for IMHA and the CIHR community; create new POR assets; and evaluate the progress of PERA. PERA quickly established a collegial approach and monthly meetings. Over that summer, the group defined its main priority and then over the next two years, developed the materials for this priority. This is the story of how PERA did so.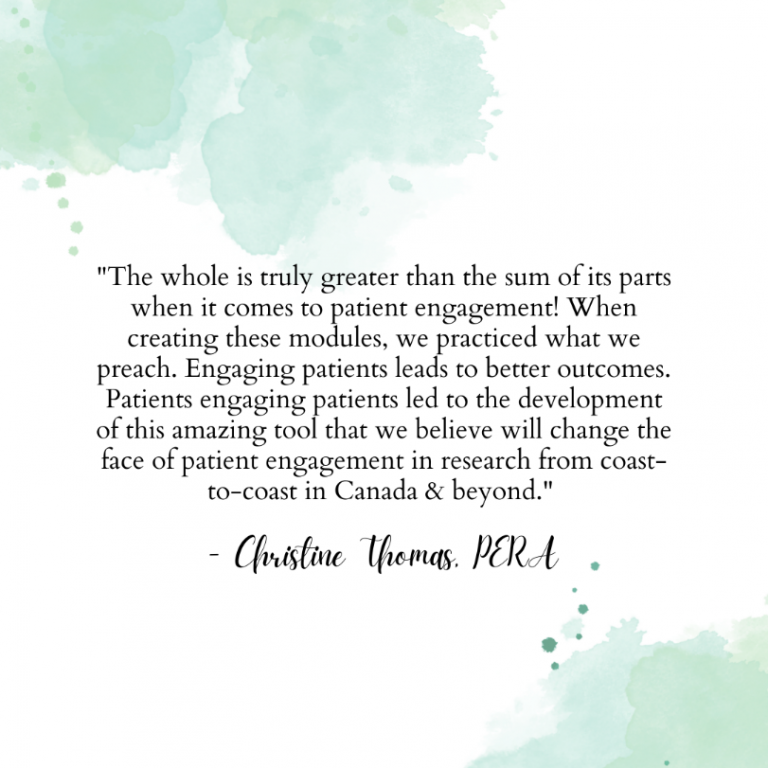 Patient partners identified a patient engagement in research gap and set a work priority
Over the summer of 2020, PERA members got to know each other and members of the IMHA team, met monthly with each meeting's agenda including a combination of information sharing, capacity building (about research, IMHA and CIHR and patient engagement in research), and discussions about experiences in patient engagement. Invited guest speakers from the IMHA community included a researcher and a trainee who spoke about different topics, provided their perspectives, and participated in conversations with PERA.
During these meetings, a 'parking lot' was built and by the fall, a list of priorities emerged. The group agreed that its main priority was to fill the gap for practical tools and resources to help people do patient engagement (PE) in research and to advance patient engagement in research. IMHA provided consultant funding, honoraria, and staff time.
Patient partners drove the work – with their lived experience
Over the course of the next two years, each monthly PERA meeting included a discussion about what these PE in research resources would look like, what topics would be covered, and what information was most appropriate for different audiences.
All PERA members played an integral role in informing the work based on their own experiences as people living with a variety of conditions and who have had different experiences with research and research studies. The discussion around modules allowed PERA members to recognize and hold space for the ways in which patients are often ignored or tokenized in research settings. The group developed clear criteria for the PE resources that it would create. Material would be encouraging in tone, accessible, offered free of charge, available in English and French, and importantly, based on their own experiences. One PERA member drove the work between PERA meetings and made sure the momentum continued between the meetings.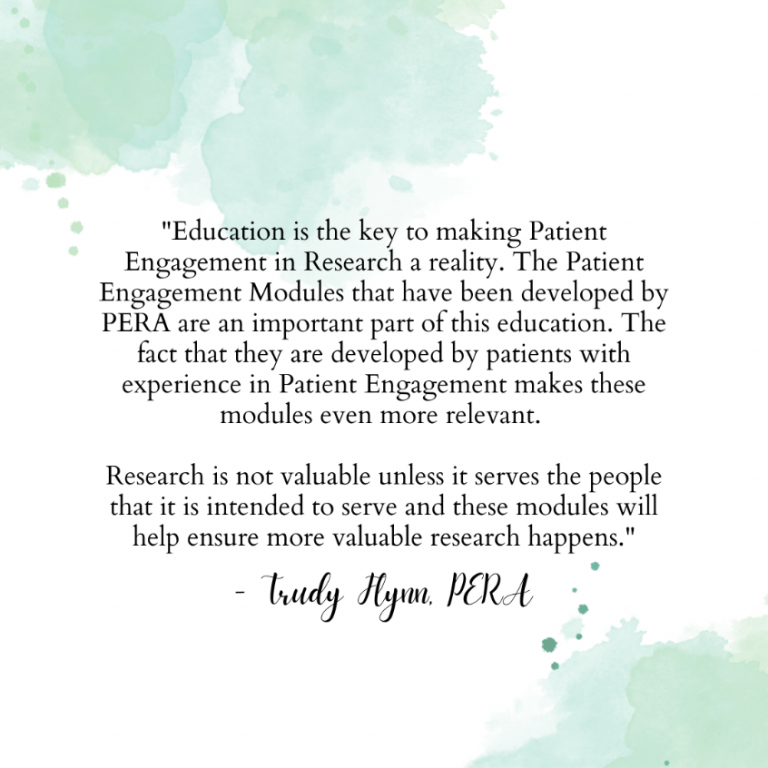 The results: Democratizing PE in research training
The result of PERA's work is IMHA's "A How-to-Guide to Patient Engagement in Research" – a set of four modules, designed for anyone who is involved in patient engagement in research. The modules are:
Module 1: What is patient engagement?
Module 2: The research process: (a) Understanding the research process (for patient partners) and (b) Supporting patient partners throughout the research process (for other members of the research team)
Module 3: Setting up a research project for successful partnership
Module 4: Patient engagement for research teams: (a) Being on a research team (for patient partners) and (b) Engaging patient partners on a research team (for other members of the research team).
The course has been designed to be accessible, free, and taken at a pace that works for individual learners. Further the course is available in English and French and is not specific to arthritis, so that anyone in any research area can learn from it.
Next steps: take the course, spread the word
If you are a patient partner, researcher, trainee, or other member of a research team, these free, short modules are designed to provide new insights to your work in patient engagement in research and they will save you reinventing the wheel when you build capacity in the field of patient engagement.
This is the link to register for the learning management system and to take the course. We hope you will take the course, find it worthwhile, and then tell others about it and what you have learned from it. Our goal is to have patient engagement in research done well, so that we can ultimately develop better research outcomes that benefit all Canadians.
Also, you can check out IMHA's Patient Engagement webpage for more information:  https://cihr-irsc.gc.ca/e/27297.html#a2
A special thank you to the PERA members who contributed to this piece: Dawn P Richards, Christine Thomas, and Gillian Newman (with thanks to Linda Hunter and Trudy Flynn for reviewing, and Karim Khan for editorial support).